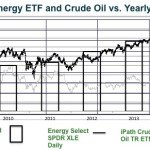 Energy Stock Dividends and Falling Oil Prices – Something Has to Give
The 60% decline in oil prices, which accelerated during the fourth quarter of 2014, has continued into 2015. This unexpected swift decline has left many investors flat-footed and utterly confused. Kenneth Rogoff, a Harvard University economics professor, believes oil prices are the big story for 2015 and this once-in-a-generation shock will have huge reverberations. We would add that this drop in energy prices could have serious implications on your investment portfolio. Thus far the exploration and drilling energy companies have dropped significantly in price but the stock prices of the large integrated energy companies have fallen more modestly. Many investors have considered the following reasons why energy prices have crashed.
Organization of Petroleum Exporting Countries' (OPEC's) decision to maintain production levels and market share vs. the US
Slowing growth overseas in China and Europe
Relatively warm weather
Too much supply from US producers
A geopolitical squeeze on Putin
The question that we are now examining is whether or not equity investors are still holding out for a quick rebound in energy prices. The last time oil prices was below $50 a barrel many of the integrated energy companies were trading almost 30% lower. It is possible that some investors are attracted to the high dividend yields of these companies as well as the low P/E's. At this point, we believe that dividend cuts are at serious risk and P/E's could rise. The future earnings estimates for the large integrated energy companies have already been cut by analysts and their valuations are not as cheap as they first appear. The table below shows the potential worst case scenario if dividends are cut back to 2009 levels based when oil was trading below $50 a barrel.
| | | | | | |
| --- | --- | --- | --- | --- | --- |
| | 2009 P/E | 2014 P/E | Forward P/E (Year) | Today's Dividend Yield | Hypothetical Dividend Yield based on 2009 annual dividend and 1/6/15 stock price |
| Chevron Corp | 6x | 9x | 15x | 4.10% | 2.50% |
| ConocoPhillips | 5x | 10x | 18x | 4.60% | 2.90% |
| Exxon Mobil | 7x | 11x | 17x | 2.90% | 1.80% |
Source: Constant Guidance Financial and Morningstar. This is a hypothetical example that is demonstrating a mathematical principle. It does not illustrate any investment products and does not show past or future results.
We believe that the hypothetical dividend yield based on the 2009 annual dividend could be a possibility if energy prices remain low for an extended period of time. According to data complied by Bloomberg News, the tumble in crude prices has prompted energy-stock analysts to slash estimates for capital expenditure for the next year, cutting them as much as 9.1 percent since July. Typically, when capital expenditures drop so will the profits of many of these companies which could ultimately impact dividends. Another way we analyzed this question on the potential for dividend cuts was by illustrating the yearly dividend of the Energy Select XLE dividend since 2009 and comparing it to the change of oil prices and the price vs. the Energy Select XLE ETF. The last time oil traded at $50 a barrel dividends for the energy sector was over 50% lower. In 2009, the Energy Select XLE dividend was $1.03 and rose year over year until hitting $1.96 in 2014. We conclude that one of two things need to happen, either dividends could be cut or the price of oil will need to rebound significantly.
Source: Constant Guidance Financial and bigcharts.com – This is a hypothetical example that is demonstrating a mathematical principle. It does not illustrate any investment products and does not show past or future results.
In our opinion, the table and chart show that there could be downside risk remaining for these stocks if energy prices do not rise. We believe these companies may represent a classic "value trap". The following quote from legendary investor Benjamin Graham applies well to today's energy sector,
"In the short run, the market is a voting machine but in the long run, it is a weighing machine."
Many investors are voting that energy prices will rise and these large integrated energy companies will continue to pay their dividends. The weighing machine will be the ability for these companies to actually pay their future dividends. We believe that either those stock prices will need to adjust or energy prices will need to rally significantly.
Over the past few months, we have recommended a zero weighting in energy companies and we continue to believe that there are more attractive sectors within the U.S. stock market to invest. We are advising that our risk-averse clients continue to underweight much of the energy sector but remain invested in other industries that are benefiting from the drop in energy prices. Given the huge volatility in the energy sector, there could be more interesting buying opportunities sooner then we originally thought from just a few weeks ago.
We are closely following comments made by the managements of major energy companies on the stability of their dividends. If energy companies cut their dividends many investors may be forced to sell their positions. This could create a potential buying opportunity. There is a chance that many energy producers suffer the same fate that gold miners have experienced in the past few years. Many of these gold stocks have seen huge rallies followed by ensuing reversals. We believe that active traders might target many E&P companies in the Permian Basin, Bakken, and Eagle Ford shale areas as very good tradable opportunities.
Overall, we believe risks remain and it is prudent to remain overly cautious. We will gladly sacrifice any potential upside off the bottom in exchange for not risking the permanent impairment of capital. We believe dividend cuts and potential bankruptcies could be around the corner for highly leveraged explorers with higher marginal costs if oil remains at these levels.
Please read our disclosure statement regarding the contents of this post and our website as a whole.
Advisory services offered through Constant Guidance Financial LLC, a registered investment adviser.