Mitch Zides, CFA, CFP® Serves the Local Community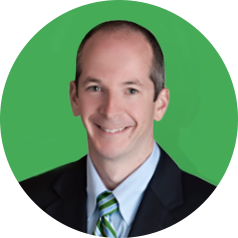 For 16 years, Mitch has helped his clients with their investments and personal finances. Mitch founded Constant Guidance Financial to bring institutional thinking and customized portfolio management to individual investors. As a Chartered Financial Analyst (CFA) charterholder and Certified Financial Planner™, he is able to bring an inter-disciplinary approach that can help achieve and address your evolving financial goals. His primary responsibility is creating financial plans, and he is the sole decision-maker for executing the investment strategy for his clients.
Constant Guidance Financial is a locally owned, independent advisory firm that is dedicated to providing a personalized approach to investments. As an independent fee-only wealth advisor, Mitch has absolutely no sales quotas or production requirements. His independence gives him the freedom to provide you with an objective and unbiased assessment of your financial circumstances.
Mitch is the only CERTIFIED FINANCIAL PLANNER™ in the local area with a Chartered Financial Analyst designation and MBA. Mitch's specialty is managing portfolios, analyzing mutual funds, and he is differentiated from other advisors in that he has the education and professional investment experience to help give you confidence in your investments. His formal education consists of:
BS in finance from University of Massachusetts, Amherst
MBA from Bryant University
CFA charterholder
Certified Financial Planner™
Mitch is a lifelong investor who believes that value investing based on fundamental analysis is the best way to reach your financial goals. He specializes with helping high net worth individuals, families, and businesses with their investments. He focuses on areas such as asset allocation, portfolio management, estate planning, investment analysis, tax planning, and retirement planning.
Prior to founding Constant Guidance Financial, Mitch spent over three years at Wellington Management in Boston where he helped oversee investment portfolios for key institutional asset management relationships ranging in size from $80 million to $3 billion. Mitch offered investment solutions which included a broad range of the firm's strategies such as equity, fixed income, and hedge funds.
Mitch's investment experience consists of: 
Managing over 200 client accounts
Actively managing an investment portfolio of over $30 million (as of 6/30/17).
Consulting small business owners with retirement plans and asset allocation decisions
Creating portfolio solutions for mutual fund companies and private equity advisors
Mitch lives in North Attleboro with his wife Bridgitte. Bridgitte has worked in the Attleboro school system for her entire career. They are both active members of the community. They have two daughters Bella and Remi and a boy Maxx. When Mitch isn't working he enjoys playing sports with his children, golfing, and reading history biographies.
Below is a summary of Mitch's designations and certifications:
Chartered Financial Analyst (CFA)– No credential is as widely regarded in the global financial industry for its rigorous focus on current investment knowledge, analytical skill, and ethical standards as the Chartered Financial Analyst designation. With more than 100,000 CFA charterholders in over 135 countries and territories and an increasing demand worldwide for the CFA Program, the charter has become the global professional investment credential.
Certified Financial Planner (CFP®)– Any advisor may call themselves a "financial planner," but only those who have fulfilled the certification and renewal requirements of the CFP® Board can display the CFP® certification marks, which represent a high level of competency, ethics, and professionalism.


Invest with confidence with Constant Guidance Financial.
We'll work hard to earn your trust as an advisor or strategic partner in structuring investment solutions that address your evolving financial goals.